I was happy to attend yet another Spark event last night, this time about Blogging.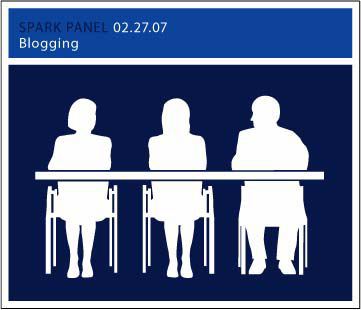 I truly enjoyed Nelly Yusupova's presentation. I have wanted to meet her for quite a while now. She gave us a thorough pros+cons overview on Self-Hosted Blogging Services. (I know that I should finally move this blog over to my own server and integrate it in WordPress, MovableType or Texpattern. Has anyone of you any experience in moving a typepad blog over to one of the self-hosted blogging tools?)

Marketing Strategist and influental blogger B.L. Ochman gave a very lively presentation. This woman has 'Umpf'. Wish she would have been given more time to present. I loved how she described herself a "global micro brand". Her ending quote made me smile: "Change the world or go home!"
Cary Solly gave a very basic introduction to what blogs are, as there were a lot of people who were completely new to the blogging thing. I would have loved to listen to some of her more advanced blogging-cyberworld-insights as she seemed to have a wealth knowledge – she's a senior editor at About.com.
If you're an (independent) designer living in NYC, make sure to attend one of the upcoming Spark Events.