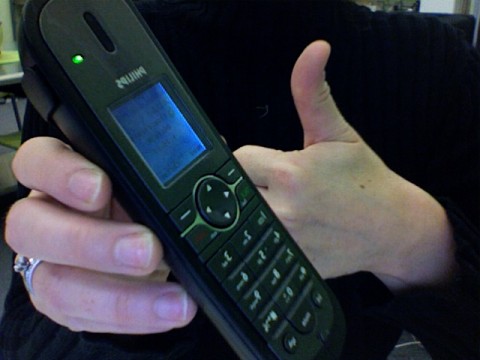 I have mentioned a few weeks ago potentially buying the Philips Wireless IP Phone. I did and have used it for a little over a week now and can call myself a happy owner of the device.
I was a little hesitant in the beginning, having read all the customer reviews on amazon.com. To my surprise, set up was a breeze. And it has been working like a charm! As a matter of fact, I ditched my cell phone entirely when at work now. I do all my calls via skype-out and the sound quality has been exceeding my expectations by far! None of my call-receivers was ever able to tell it wasn't a regular phone, only the odd caller ID would give it away.
I got myself a Skype Pro account and a SkypeIn number, which has a regular 646 area code. So people don't even know they're calling a 'virtual office'. AND, I love the fact that I can pick up regular skype user calls on my handset. This allows me to walk around during my conversations and not like before, being stuck in front of my screen.
In short: The Philips Wireless IP Phone is a fantastic product. I will go and suggest to G now that we should just get rid of our landline at home and get one of these.
YAY! I am one happy customer.