Our studio was filling up quickly…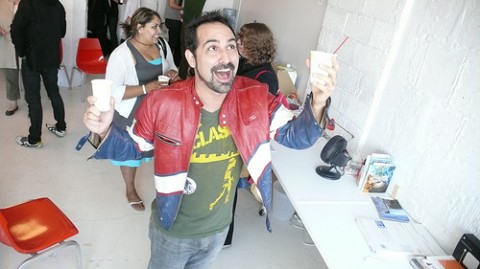 Scott Bellina had one coffee too many :)

Tom Tinervin toasting to our first 'virtual skype guest' Billy Davenport in Knoxville.

So today was the kick-off to our new coffee+chat series here at our studio. What a great turn out! Thanks for everyone that made it out to DUMBO so early and showed the will-power to walk up 6 floors! (What great timing for our elevator to break down!)
I met lots of interesting folks and simply wished there would have been more time! But don't despair, there will be another one of these events next month! The plan is to connect each meetup with a topic and a potential short presentation. If you have a topic you're passionate about and would like to present at one of our upcoming events, email me. Also, if you run design studio in DUMBO (or Manhattan) and would like to host one of these mornings, email me as well. You can view some pix of today's event here.
Thanks again to Saul from Freshbooks who sponsored today's breakfast!