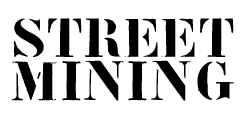 street mining is pretty simple: once a month a bunch of people get together and go walk the streets of NYC. Each month is guided by a different person showing off their favorite gems. Anyone's invited, so why not come exploring?
Next exploration: saturday, july 28th at 2pm
Subscribe on their site to learn more about upcoming expeditions.