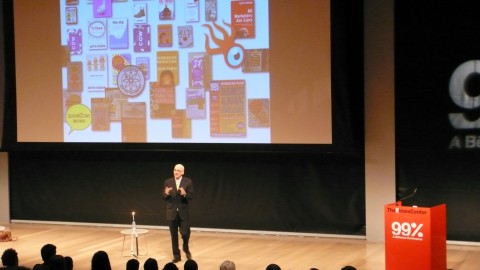 My personal highlight of today was Seth Godin. Here's a few points he made during his entertaining and prop filled 20minute talk (he had a plastic chicken with him, really):
– You don't need to be more creative, all of you are too creative.
– Be a person that always ends up 'shipping'. If you are proud of what you 'ship' and are on time, you will be successful and you will get to do it over and over again. What you do for a living is 'ship' and not 'being creative'.
– The resistance gets worse and worse the closer we get to 'shipping'. Of course we come to the meeting before ship date as our 'lizard brain' says I need to speak up now. The genius part (in getting ideas realized) is to get the Lizard brain to shut up long enough to overcome resistance.
The last point he made was that if he is going to take the first two breaths (going to first steps in a project) he is going to finish it. So he has a lot of arguments and discussions with 'lizard brain' in the beginning. But once he decides to continue, he takes it all the way. He will 'ship'.
You can tell that he really looks at presenting at a conference as an honor and not an obligation. Seth was a breath of fresh air and an already amazing conference. (Recent post on his site, somewhat related: Hierarchy of presentations)
I wish he would have had more time to talk. I could have listened to Seth all day.