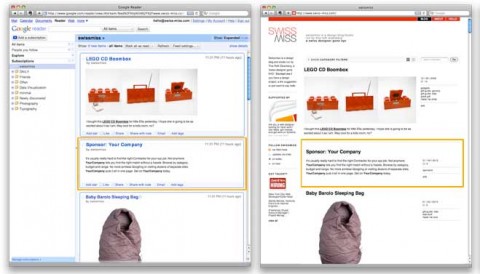 I am happy to announce a new Weekly Syndicated Feed Sponsorship on swissmiss which we'll be kicking off next week with Carbonmade.com.
Here's what it is all about: Become a swissmiss sponsor and get the chance to promote your company, product or service directly to swissmiss readers.
The sponsorship price is $850 for one week. Here's what you get:
A short sponsorship post about your company/service/product at the beginning of the week. Since this is not an ad but an actual post, it will reach people using an RSS reader as well as regular visitors to the site. There are currently 40,000+ RSS subscribers and monthly pageviews to the site average around 900,000. You'll be added to the sponsor category and remain on the site indefinitely.
Email me to schedule a sponsorship post or ask any questions you might have.
A big thank you to Carbonmade, the amazing online portfolio site, for being our first sponsor.

I am fully aware that some of you might not approve of these paid posts in my stream, understood. I respect your opinion in this matter but would like you to try to understand my reasoning behind this decision. This little family is about 4-5 weeks away of welcoming another family member into this world and I want to make sure I can keep the blog up while I am on maternity leave (and in the future). I spend a good 2-3 hours a day on this site and I need to be able to justify this time spent blogging while also being able to feed my family. Another route would have been to plaster my site with ads, which of course, I am not going to do. Having a sponsored post, once a week, seemed like the best and most unobtrusive solution. I hope this makes sense. Thank you all for being such loyal readers!