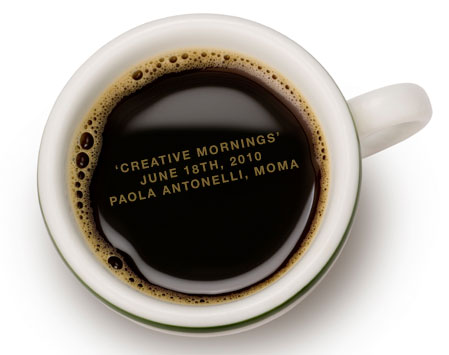 D A T E
CreativeMornings, June 18th 2010, 8.30am – 10am
S P E A K E R
Paola Antonelli is on a mission to introduce — and explain — design to the world. With her shows at New York's Museum of Modern Art, she celebrates design's presence in every part of life.
Since she stepped back from practicing architecture in order to focus on writing about design, teaching and curating gallery exhibitions, Italian native Paola Antonelli has become a force to be reckoned with in the design world. Working at the Museum of Modern Art in New York since 1994, she now heads up the gallery's Architecture and Design department and has worked on shows such as "Humble Masterpieces," which celebrated traditionally unheralded design icons such as the paperclip; "Safe," considering issues of protection, and "Workspheres," a look at contemporary workplace design.
Ever mindful that the majority of visitors to MOMA are attracted by artists such as Picasso and Matisse, Antonelli works to ensure that if they do stumble across a design-related show, they'll be both entertained and enlightened.
Have you seen Paola Antonelli's TED Talks?
Paola treats design as art
Design and the Elastic Mind
(And yes, I am humbled by the fact that a two-times-TED speaker is speaking at a CreativeMornings! YAY!)
H O S T
This month's event will be hosted in the Celeste Bartos Theatre at the Museum of Modern Art (MoMA).
The Celeste Bartos Theatre
Museum of Modern Art
4 West 54 Street
New York NY 10019
A T T E N D I N G
R.S.V.P will open at noon monday june 14, 2010! Please let us know if you r.s.v.p'd but can no longer make it. Our events fill up quickly and we usually keep a waiting list. Thank you! And at the morning of the event, make sure to put on your chatty networking hats!
BREAKFAST SPONSORS
Breakfast will be generously sponsored by our main sponsor MailChimp and this month's Co-Sponsor Moment.
MailChimp is a fantastic service that makes it easy to send email newsletters to your customers, manage your subscriber lists, and track campaign performance. A big yay-hooray to the team over at MailChimp!
Moment is a digital product design firm. They help clients make things that work for people.
ABOUT CREATIVEMORNINGS
CreativeMornings is a monthly morning gathering of creative types. Each event includes a 10 minute lecture, followed by a 20 minute group discussion. The gathering begins at 8:30am with the topic presentation starting at 9:00am and everyone taking off for work at 10am. CreativeMornings are free of charge!
Be the first to know when r.s.v.p's open up, follow CreativeMornings on twitter!
Check out pictures of previous CreativeMornings over at Flickr.
View all the taped CreativeMorning talks we've put up on the web so far over at Vimeo.