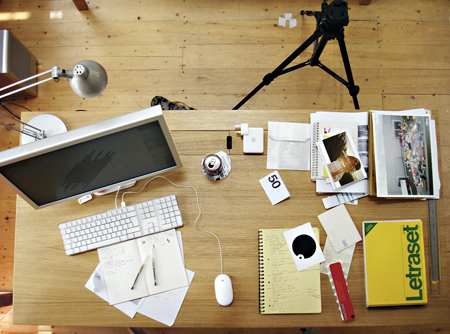 Over the next month, Michael C Place of Build and Creative Review will be conducting a unique experiment. They are going to document one month in the life of a graphic designer. Mr Place (whose desk is shown above) has agreed to record everything that he does during this period. Every piece of work. Every idea. Every presentation. Every meeting.
During the four weeks there will be regular updates at the CR Blog. You'll thrill as he meets his bank manager. Gasp as he checks some proofs. Marvel as he tours exotic locations such as Walthamstow and Epping Forest. All will be revealed.At the end of the four weeks, they are going to publish this unique insight into the life of a graphic designer in a special August issue of Creative Review, out the week of 23 July.
As a first taste, here is Michael's diary for last week.
(via swisslegacy)