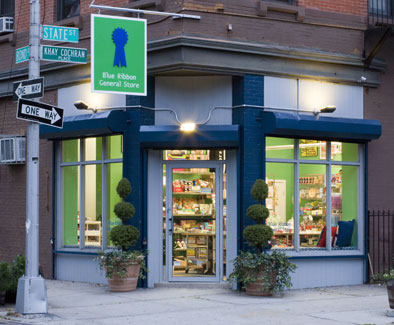 I am in heaven! Two blocks from my apartment, Ann Lopatin opened a store that sells pretty much everything I have featured on this blog. Ok, maybe not the furniture, but all the small designy, fun stuff. I spent about 45minutes in there last night and am happy to say that I got all my christmas shopping done. One stop shopping! YAY!
Blue ribbons have always stood for the "best in show" and Ann truly deserves the title. The cleverly edited merchandise is bound to inspire, whether you're searching for a specific gift or browsing on a lazy Sunday.
Blue Ribbon General Store opened October 2007 at 365 State Street (corner of State and Bond) in Brooklyn. An e-commerce launch is planned for February, 2008 at www.blueribbongeneralstore.com.
If you live somewhat closeby, go and visit Ann on state street. To all of you manhattanites, com'on out to Brooklyn, Ann's store is only subway 2 stops into Brooklyn. For directions, click here. And when you're done shopping, walk down state street to the corner of hoyt and enjoy a coffee and panini at the cozy Victory Cafe.