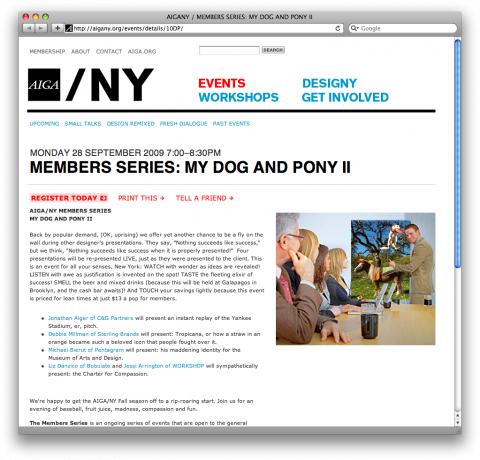 AIGA/NY is on fire! I just bought tickets to two events within 4 days of each other. First, Ji Lee's presentation this thursday and then monday's Dog and Pony Show at Galapagos in DUMBO. The line up of presenters is breath-taking:
– Jonathan Alger of C&G Partners will present an instant replay of the Yankee Stadium, er, pitch.
– Debbie Millman of Sterling Brands will present: Tropicana, or how a straw in an orange became such a beloved icon that people fought over it.
– Michael Bierut of Pentagram will present: his maddening identity for the Museum of Arts and Design.
– Liz Danzico of Bobulate and Jessi Arrington of WORKSHOP will sympathetically present: the Charter for Compassion.
See you there?