Fabulous Galapagos Art Space in DUMBO presents two great events for ideas and design.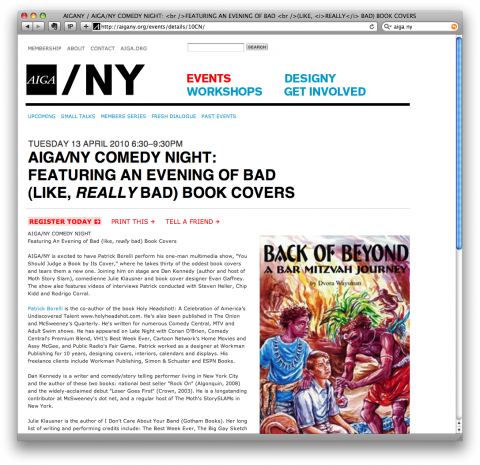 On 4/13, AIGA/NY presents Patrick Borelli's one-man multimedia show "You Should Judge A Book By Its Cover", in which he dissects thirty of the oddest book covers you've ever seen. Joining Borelli's cover-shredding onstage will be McSweeneys writer and Moth Story Slam host Dan Kennedy, Cat News creator and comedienne Julie Klausner and book cover designer Evan Gaffney. The evening will also include video interviews Borelli did with design luminaries, including the legendary Chip Kidd. The event begins at 7 P.M. and tickets are $28 for the general public and $18 for AIGA members who also receive a free drink. More info here.
The following night, 4/14, Galapagos hosts the the School of Visual Arts' MFA in Interaction Design's Dot Dot Dot lecture "The Entrepreneurs". Ideas are important. Yet as ideas evolve from thoughts to action to revenue, what insights can we gain? With new projects under their belts and major successes underway, entrepreneurs at every stage have a great deal to offer. Hear from four different founders' perspectives on topics from persistence, engaging with people, the rate of change and growth, the role of unencumbered luck, and more. The event begins at 6:30 P.M. and tickets are $6. More info here.