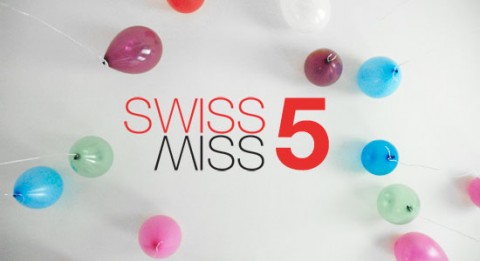 swissmiss, the blog, is turning 5! This occasion calls for a proper celebration: Good folks, good food and alphorns! We will celebrate in style, at Galapagos, in DUMBO on May 26th, 2010. Make sure to buy your ticket soon, we're filling up quickly! Get it here!
What to expect? There will be some food to nibble on (an entire wheel of Appenzeller Cheese), a short talk by Tina, a performance by a real alphorn player and a Studio Booth!
And by the way, the *actual* birthday is may 27th!
---
Can't attend? Join us virtually! How?
Take a photo of yourself holding up a sign saying either where you're from, your url, twitter name or any other type of birthday message that you wouldn't mind displayed on a huge giant screen. The photos in this Flickr group will be rotating on the screen during the event.
Add your image to the group or if you do not have a Flickr Account, email them to me and I'll add them on your behalf.
Yay Internet!"
---
The event is generously sponsored by our main sponsor MailChimp, and our co-sponsors GlennzTees and Appenzeller Cheese. The event will be photographed by a team of ImageSource!


Want to join the co-sponsor team? Email me!