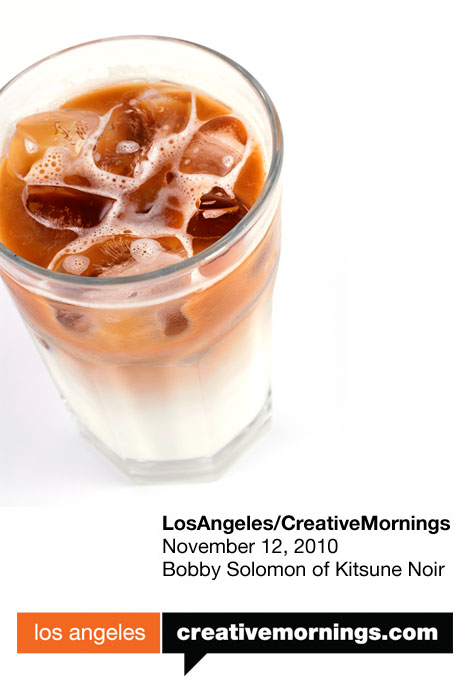 Our November LosAngeles/CreativeMornings speaker is Bobby Solomon of Kitsune Noir on November 12th, 8.30am – 10am. (RSVP will open Friday November 5, 2010 at 11am over at losangelescreativemornings.eventbrite.com!)
Bobby is a Los Angeles based designer who runs Kitsune Noir, a culture blog that dabbles in art, design, food & fashion. Since it's inception in 2007 Bobby has created severable notable projects such as The Desktop Wallpaper Project, which features the best contemporary artists and designers from around the world, creating wallpapers to liven up people's computer desktops.
The event will be hosted at the Ford&Ching showroom in the historic Kim Sing Theatre in Chinatown. Not familiar with their space? Get ready for a real treat!
A big thank you to HUGE/Los Angeles for sponsoring breakfast.

And many thanks to Boxed Water Is Better for generously donating a few cases of their delicious and environmentally friendly boxed water.
SIGN UP
RSVP will open up on friday, november 5, 2010 at 11am. (Space is limited and we will up quickly, so mark your calendars!)
ABOUT CREATIVEMORNINGS
CreativeMornings is a monthly morning gathering of creative types. Each event includes a 20 minute lecture, followed by a 20 minute group discussion. The gathering begins at 8:30am with the topic presentation starting at 9:00am and everyone taking off for work at 10am. CreativeMornings are free of charge! LosAngeles is now the third chapter and joins Zurich + NewYork/CreativeMornings.
The LosAngeles/CreativeMornings chapter is run by Jon Setzen.