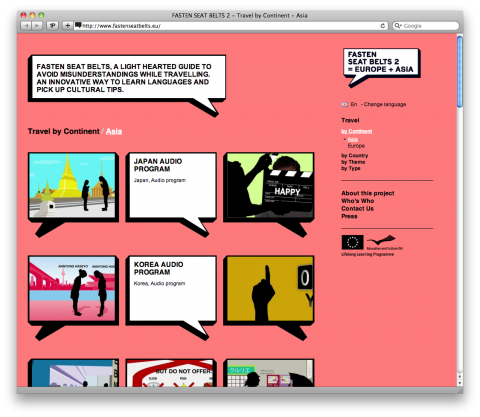 Excited to see that Fasten Seat Belts now came out with a guide for Asia. (I posted about their Europe guide a while back.) Fasten Seat Belts is a lighthearted guide to avoid missunderstandings while travelling.
It's an innovative (visual) way to learn languages and pick up cultural tips. The videos describe various "Dos and Don'ts" (gestures, traditions, manners…) relating to 6 countries of South Asia : Japan, China, Korea, India, Thailand and Vietnam. The videos offer a chance to learn some simple and useful expressions in the official languages of these 6 countries.
Did you know that in China people count to ten only using one hand? See below:
China 6_Count to 10 using only one hand. from 43 Films on Vimeo.
And the guides now even come as iPhone Applications. Nifty!
(thank you Barbara)