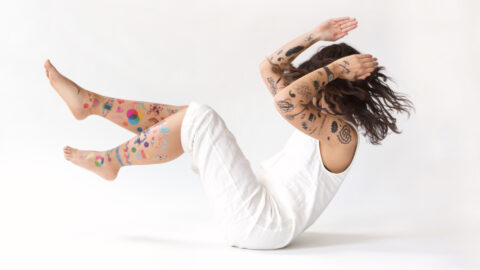 11 years ago I launched Tattly as a fun side project.
The goal? Create high-quality temporary tattoos, designed by professional artists.
Little did I know this lighthearted idea would grow into a healthy business, shipping millions of tattoos around the world.
Since July of 2011, Tattly has catapulted joy and good art into the world, paid our artists over $1.5M in artist royalties, employed over 45+ fine humans, moved three times, attended countless trade shows, appeared on national TV, got featured in the NYTimes, handed out tattoos at the White House Easter Egg Roll under president Obama, collaborated with brands such as NPR, VOGUE, National Gallery, Sesame Street and Starbucks, ran a 'temporary temporary tattoo parlor', and licensed art from over 120 artists.
It's been an eventful ride.
Tattly taught me about margins, the world of wholesale, what it means to ship products globally, how to source manufacturers… but most of all: Tattly taught me that it can be advantageous to fall into an industry you know nothing about. I showed up with zero limiting beliefs, just a whole lot of enthusiasm and willingness to learn.
And then 2020 happened.
Like for so many other bootstrapped, wholesale focused businesses, the pandemic has been brutal. During the NYC lockdown, in an attempt to save the business, I had to personally learn how to ship our orders. For months I would go into our deserted office, pack up the orders and carry them to the post office. It was a lot.
I admit I was on the brink of giving up. More than once.
Carolyn Andrews, our fearless CEO, was one of the people who would consistently remind me of what this mighty little brand brings to the world: We celebrate art, financially support artists, spread joy, champion inclusivity and allow the world to self-express and pretend. Pretending is fun. And boy does this world need more fun.
Over the past two years, I gained clarity: I want Tattly to grow, support more artists and bring smiles and lightness to more corners of the world.
Today I am proud to announce that Tattly has been adopted by the BIC family and is entering its next, expansive brand chapter.
BIC is a family-controlled company started in 1945 by Marcel Bich. Its founding product, the iconic BIC Cristal® pen, kickstarted a revolution that democratized handwriting and provided the world with an accessible medium for artistic self-expression.
Today, BIC is a leading global provider of many essential items. The company's vision to bring simplicity and joy to everyday life is realized daily through the sale of more than 30 million products in 160 countries. This ability to touch the lives of billions of people in such a meaningful way, to me, is extraordinary.
Am I nervous about putting Tattly in the hands of such a giant company? Yes! Of course!
Am I 'anxcited' about the months ahead? Yes, of course!
Am I excited for the expertise, manufacturing and financial resources BIC will be able to provide to strengthen the mission and scale of Tattly? Absolutely!
There is so much possibility ahead!
And, a lot will stay the same:
Tattly remains women-led, Brooklyn based and will always champion artists. Tattly's brand ethos will be untouched. Our artist community will continue to flourish, as BIC shares our deep respect for creatives. While my role becomes more advisory, I'll still be involved with the overall creative vision.
I don't make a decision like this lightly. My close friends know it's been a tremendously long journey for me to feel ready to set Tattly free. I am proud of how far my team and I have been able to take this gem of a company. Tattly is a true labor of love, bootstrapped, infused with a tremendous amount of care and enthusiasm by 45+ team members over the course of 11 years. Each one of them left a mark.
I trust BIC will honor our past 11 years and honor the essence of Tattly.
I trust BIC will teach her new things, I wasn't able to.
I can't wait to see what she'll grow into.
I love you, Tattly.
Mamabear,
Tina