Hypothetical Development Organization (Kickstarter Trailer) from R Walker on Vimeo.
I had the pleasure to enjoy a cup of coffee with Rob Walker a few days ago here at swissmiss studio. I am a fan of Rob's creative endeavours, thinking and writing. You might have read about his book Buying In: The Secret Dialogue Between What We Buy and Who We Are or his wonderfully poetic project called The Significant Object. During his visit Rob told me about his latest project called Hypothetical Development.
Rob explained that he kept walking by a construction site that sported one of those fancy 3D renderings of what's soon to come. After months of walking by the site, and nothing happening, it was clear that obviously this was just a bunch of hot air.
The idea for The Hypothetical Development was born. Why not pick interesting sites and come up with Hypothetical Development renderings? Consider it a new form of urban storytelling.
Or as they explain it on their site:
Members of this Hypothetical Deveolpment begin the narrative process by examining city neighborhoods and commercial districts for compelling structures that appear to have fallen into disuse —"hidden gems" of the built environment. In varying states of repair, these buildings suggest only stories about the past, not the future. What this means is that they will put huge signs with illustrations/graphics of what soon is to come on this site outside various locations in New Orleans.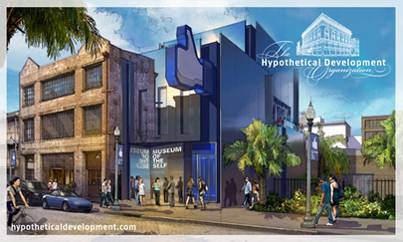 Take the Museum of the Self as the first example. (Rendering above) I can't help but think about how much these futuristic hypothetical developments would make me chuckle.
I just backed the project with $50. It's only $1,200 shy of meeting it's goal. Let's help Rob and his team make this happen.
Kickstarter page for Hypothetical Development
Official site: Hypothetical Development