Are you in the market for a 2 bedroom in BoCoCa, Brooklyn? You should read on, as we are selling our place.
With the birth of our second child Tilo Red we realized that we will be outgrowing our wonderful 2 bedroom within a year or so. The time has come. We are heartbroken, but if we only had one child, we would never leave this place. The view is killer, the location couldn't be any more perfect and the walk-in-closet and master bathroom makes every woman's heart beat faster.
The apartment is in a designy new construction (3 years old). With many design-focused readers based in Brooklyn, it only makes sense for me to share this on my blog. So, please, bear with me.
Here are the facts: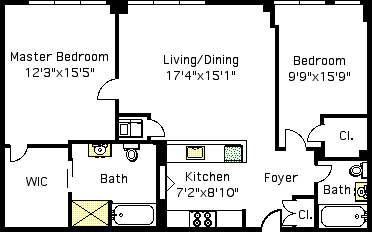 Our apartment is a generous 2 bedroom, 2 bathroom with a super-awesome walk-in-closet (Currently Tilo's bedroom) and a huge master bathroom. (The separate shower in there is to die for.)
We live on the 8th floor on the corner of Atlantic Avenue and Smith Street. As I mentioned, it's a new construction and we are the first owners.
We are south facing which means our apartment is extremely bright. We see over the brownstones of Cobble Hill and Carroll Gardens and even see the Verrazano bridge. And if you peek out the window, to the right, you can also get a glimpse of the Statue of Liberty.
Some of you might have seen pictures of our lovely Brooklyn home in last year's DesignSponge feature or in Apartment Therapy's Big Book of Small Spaces.
If you have visitors and don't feel like having them stay with you, just tell them to stay in the design/boutique Hotel NU below. (Floors 1-4 are Hotel, floors 5-12 are condos) It has proven incredibly practical to have a hotel right underneath us. And if you're into working out, you can pay the hotel $60 a month and they let you use their always empty gym. And you don't even need to go outside, all you need to do is take the elevator to the C level.
And then, of course, there's Smith Street right outside your door. That means, lots (!) of wonderful restaurants and shops in close proximity.
If you have kids, you might want to know that we're in a fantastic school district and zoned for PS 261. (literally one block away, in fact you can see the school from the living room)

There's literally every Subway line you can think of in a 2-3 block radius, which makes this location so desirable. No matter where you need to go in the city, there will be a train closeby that will take you there. (In fact, we love this location so much that our new place is a whopping one block away!)
If you like you can see photos of our place over on Flickr.
If you're interested in adopting our beloved home, check out the real estate listing and get in touch with our lovely broker Terry Naini.