I asked Social Innovator Rachel Botsman whose thinking I admire, to write a guest post for swissmiss. I was thrilled that she immediately agreed. Check out collaborativeconsumption.com for information about her upcoming book What's Mine Is Yours: The Rise of Collaborative Consumption and the growing movement.
---
Collaborative Consumption: Reinventing not just what we consume but how we consume.

A couple of years ago I started to notice instead of friends bragging about their new Prius, they boasted how they had given up their cars altogether by becoming "Zipsters" (members of the car-sharing service Zipcar). More and more people were selling stuff on craigslist and eBay, swapping books, DVDs, and games on sites such as Swaptree, and giving unwanted items away on Freecycle. Local sharing platforms such as NeighborGoods and Share Some Sugar started popping up alongside a whole range of peer-to-peer rental services such as RelayRides and Zilok. On a trip to Denver, I saw cyclists pedaling around on bright red bikes with the word B-Cycle on their crossbars. A friend in London told me about her new favorite Channel 4 TV program called Landshare (a garden 'dating agency' connecting growers to people with land to share). I kept hearing about people joining some kind of collective or co-op, from Community Supported Agriculture (CSA) programs to Etsy Labs. Magazines, blogs and journals brimmed with popular articles from the self-organizing behavior of ants to "Coworking: Solo But Not Alone". Whether it was 'peer-to-peer,' to the 'wisdom of crowds' to 'smart mobs' to 'flashmobs' to 'prosumption' to 'crowdsourcing', numerous sticky ideas were emerging on how easy it is to form groups, pods, packs, hubs or whatever you want to call them, and the might of communities. From the election of President Obama to Elinor Ostrom winning the Nobel Prize for Economics to the infamous Wikipedia; all highlighted what the old adage "power in numbers" can achieve. And of course everyday I was bombarded with stats and stories about the growth of the online social revolution. Co-everything was everywhere.
The more I examined these different cultural, social and economic threads, the more convinced I was that all of these behaviors, personal stories, social theories, and business examples pointed to a powerful paradigm shift and an emerging groundswell, Collaborative Consumption. Old market behaviors, including sharing, bartering, lending, trading, renting, gifting, and swapping, are being reinvented through social technologies and peer communities. The social networks, GPS and real-time technologies, peer payment systems and so on have created the efficiency and trust glue for us to mimic exchanges that used to take place face-to-face on a scale and in ways that have never been possible before. We have literally wired our world to share.
So why is Collaborative Consumption emerging so fast and right now?
Pressing environmental concerns and the global financial crisis has led to a questioning of the health (in all dimensions of the word) of consumerism on a scale we have never seen before. We are feeling a sense of emptiness, a distrust with 'big', and turning once again to each other. The phenomenal growth of Facebook and farmers markets may not seem connected but they are. We are seeking to be a part of a community of people with a shared interest (both in the physical and virtual worlds); to feed the part of us that seeks connection and belonging. It's a perfect storm of drivers fusing together to create "The Big Shift"; away from the 20th Century defined by hyper-consumption, towards the 21st century, the age of Collaborative Consumption. It's a new era marked by trust between strangers, access over ownership and the primacy of experience over "more stuff."
The Three Systems
Collaborative Consumption is thriving across sectors as diverse as finance and travel, agriculture and technology, education and retail. When researching What's Mine Is Yours: The Rise of Collaborative Consumption with my co-author Roo Rogers, we saw that the vast array of examples from around the world, could be organized into three clear systems:
PRODUCT SERVICE SYSTEMS:
Pay for the benefit of using a product without needing to own the product outright. Disrupting traditional industries based on models of individual private ownership (e.g. car sharing & peer-to-peer rental)

REDISTRIBUTION MARKETS:
Redistribute used or pre-owned goods from where they are not needed to somewhere or someone where they are. (e.g. swap trading & reuse marketplaces)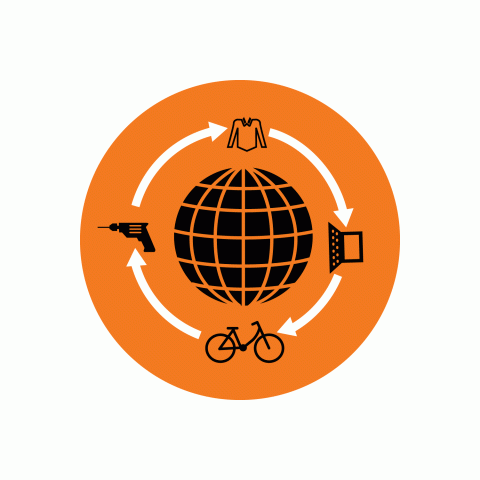 COLLABORATIVE LIFESTYLES:
It's not just physical goods that can be shared, swapped, and bartered. People with similar interests are banding together to share and exchange less tangible assets such as time, space, skills, and money. (e.g. social lending & person to person travel)

Together the three systems of Collaborative Consumption are creating a dotted line between 'what's mine,' 'what's yours,' and 'what's ours' (hence the name of the book!)
We only started publicly spreading the ideas of Collaborative Consumption a few months ago and have been blown away by the reaction and growing global movement. I think we are at a momentous turning point where society is waking up from an enormous hangover of excess and waste and starting to reinvent the "meaning" of more. In so many parts of our lives, we are crossing the chasm from passive consumers to active participants once again.
I personally have two big goals for this movement: the first, is to empower local change makers to start something in their community connected to Collaborative Consumption; the second is to work with businesses, from start-ups to captains of industry, to prove how smart 'design thinking,' 'We'-based brands and social technologies can recreate a healthier balance between the needs of individuals, companies, and the greater good of society. What's Mine Is Yours charts how Collaborative Consumption offers a big leap towards getting us there.
Amazon Link to: What's Mine Is Yours: The Rise of Collaborative Consumption
Check out the online hub for heck out Collaborative Consumption for cool info-graphics, videos, stories and resources for you to use and share. You can even swap, barter your gift your copy of What's Mine is Yours and track where it travels!